Wedding Ceremonies in Naples Florida
The city has several locations that provide for charming Naples weddings. What is truly a benefit is the city has wonderful restaurants nearby for your celebration dinner after your beach ceremony. Also located in the city are florist shops so that you can have fresh flowers and a bouquet for your wedding ceremony.
The Naples Weddings Beach
This convenient beach location is at the end of Eighth Avenue South. It is known locally as the Wedding Beach or Wedding Park. There is no parking at this location. However, parking is available at nearby roads or avenues that end at the beach. This beach park was reconstructed several years ago with improvements of landscaping and seating along the beach. The beach park allows an area for pictures to be taken including green landscaping and sunset directly over the Gulf of Mexico in the background.

Naples Beach Elopement Officiant
Naples weddings allow for a short elopement ceremony on the beach with sunset as a backdrop if you choose. Then onto a dinner celebration in town. We can discuss your wedding plans including flowers, cake and making reservations for your dinner.
Lowdermilk Park Weddings
Shown in the photograph below is another beautiful wedding ceremony location. Lowdermilk Park is also in the City of Naples. Parking is plentiful and very close to the beach. In case of rain, we can make the ceremony under one of the two Gazebos that overlook the ocean.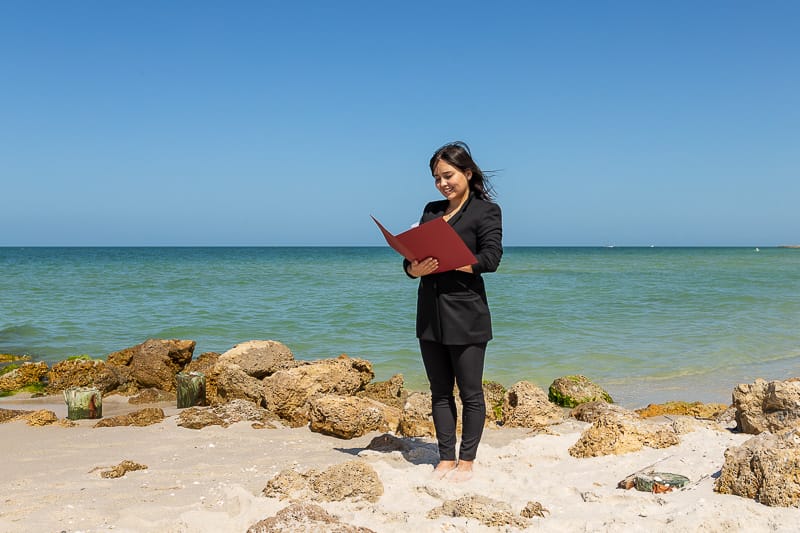 Planning Your Wedding in Naples, Florida
Naples is accessible from the Fort Myers Airport, RSW. It is a 35-minute drive along Route 75 which connects all the way to Miami. Naples also has its own airport for smaller jets and airplanes. However, there are no scheduled public airlines that currently serve the airport. RSW is an international airport located just minutes from the main highway, Interstate 75. If you want to stay in the center of Naples, the Bayfront Inn on 5th Avenue is available and directly in the center of the stylish atmosphere of the downtown area. Surrounding this hotel are many charming cafes and restaurants. Further south from Naples about 25 minutes is Marco Island. You can visit this island during your visit.
In addition to beautiful beaches with white sand, Naples has a Zoo called Caribbean Gardens, which is great for family visits. Also located just outside of the downtown area are beautiful gardens with trails, Naples Botanical Garden, which is open from 9am to 5pm daily.
Naples Downtown, walkways with shops and restaurants
Elopement and Wedding Photographer
I have a wedding photographer with many years of experience photographing weddings on Naples beaches. You can visit his Naples Beach Photographer website post here for more information and fees.

More Ideas for Naples Weddings
Naples is a charming resort town on the Gulf of Mexico. The downtown area is just a few minutes' walk to the beach. The atmosphere of downtown provides a calm walking area with art galleries, shops and a great variety of restaurants. Please use my contact page to request more information.