Wedding and Elopement Ceremony
Marco Island is approximately 60 miles south of Fort Myers. The ease of reaching the island makes it a great choice for Marco Island Elopements. The RSW airport provides quick access to Marco Island by traveling on highway 75. Marco Island is also accessible from the Fort Lauderdale International Airport. Using the Alligator Alley, it is a straight road traveling west to Marco Island. For your wedding, I can provide a ceremony and flowers, photographer and dinner reservations. Let's discuss what you are hoping for and we will make it happen.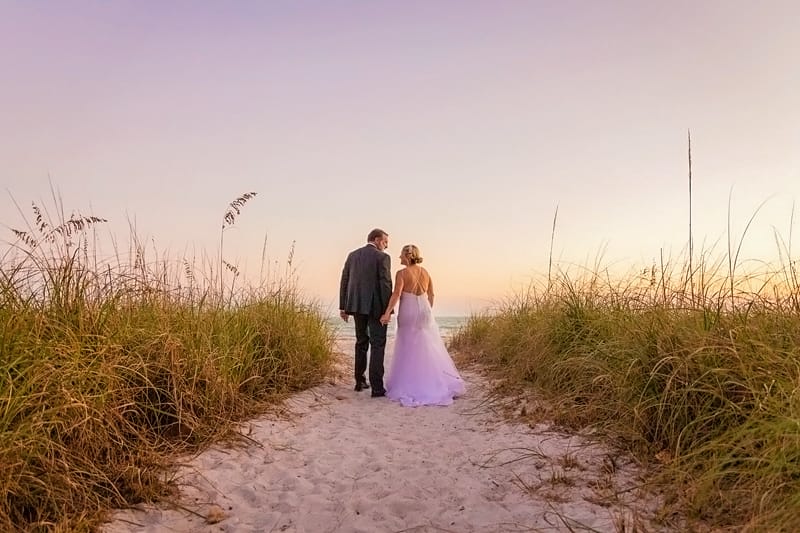 Marco Island Weddings
South Beach
The beaches facing west provide a great location for Marco Island Elopements. If you choose to marry on a public access beach, we will walk the beach for a location by or in the water that you are comfortable with. If you choose this location, a permit is required from the Collier County Government.
---
Public Access Beach Elopements
For Marco Island elopements of six people or less, we can use a public access beach on South Collier Boulevard. It is a lovely walkway to the beach, and we can then walk to the left for a quieter beach area. Photographers love this area because of the green landscaping as we walk the path to the beach. Of course, the beach faces to the west for sunset photos!
Marco Island Photographer
I have a photographer who has many years of experience in photographing weddings on Marco Island. You can visit his Marco Island Photographer page for his work and fees.
NEED ACCOMODATION?
Accommodations
Listed below are a few luxury resorts on Marco Island Beach
Marco Island Marriott Resort
Hilton Marco Island Beach Resort
Marco Beach Ocean Resort
WEDDING PREPARATION
Marriage License
You will need to visit the office of Collier County Clerk for a marriage license. The link below goes directly to the Collier County Clerk Office for official information.